Source IEx Training Services
Hazloc Training Services including CompEx Modules
Source IEx is pleased to offer the world recognized CompEx series of training/assessment programs at our facility in Spring Texas. Licensed with our business partner Intertek, CompEx is an internationally recognised course and qualification in explosive atmospheres. It provides competency based assessment for personnel working in hazardous locations. Intertek has licensed CompEx centres offering courses that are leading the way in competency validation and Source IEx is proud to have teamed up with Intertek in offering various CompEx programs.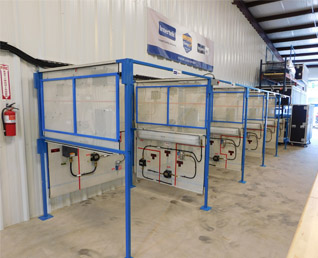 Our courses consist of training and formal, practical and theoretical assessment. CompEx competency validation is most relevant and essential to people who are involved in the design, selection, installation, inspection and maintainance of equipment.
The CompEx courses included the following:
• CompEx Courses:  Ex F: Foundation Course (2-day)  Ex 01-Ex 04: Gas & Vapor (5-day)  Ex 05-Ex 06: Combustible Dust (3-day)  Ex 07-Ex 08: Gas Stations (5-day)  Ex 11: Mechanical (3-day)  Ex 12: Application Design Engineers (5-day)  General: Overview & Refresher Courses (Custom or varies)
2017 CompEx Ex 01-04 Course Schedule
• January 23-27  February 13-17  March 13-17  April 10-14  May 15-19  June 12-16  July 10-14  July 10-14  August 14-18  September 11-15  October 9-13  November 13-17  December 11-15
To register for the course please click here. To download the course flyer please click here. Contact us today for more information on CompEx training solutions and other training programs held here in Spring or at your location.
Source IEx is also please to announce two new, low cost one day courses for engineers, designers, contractors, electrical distributors in better understanding relevant hazardous location standards and requirements.
Introduction to ATEX / IECEx
This course is intended to be a basic intro-level course into the 2 most prevalent international hazardous area schemes. It is designed to provide fundamental information to those who need a base knowledge of the standards, terminologies, etc that are utilized in the ATEX and IECEx systems in order to facilitate their understanding of projects or equipment requests that include requirements to meet ATEX and / or IECEx certification. This course is NOT intended to be a full explanation of the requirements of these systems nor provide a demonstrated competence in those systems, but is a short informative seminar to help personnel begin to get a grasp on the terminologies and standards required by ATEX and / or IECEx projects. Attendees will be provided a Certificate of Completion issued by Source IEx.
Course Summary:  Basics of Explosion Protection (Gas / Combustible Dust properties, Explosion Principles, etc)  Understanding of Hazard Groups, Temperature Classifications, and Equipment Location requirements  ATEX Directives – description, relevant standards, etc  IECEx Standards – description, relevant standards, etc  Area Classification – Zone definitions and criteria  Types of Explosion Protection – basic methodologies and principle of operation  How to read an ATEX or IECEx Label  Equipment Selection – what you need to know
2017 Dates: February 22  March 22  April 19
Introduction to North American Haz Area Standards
This course is intended to be a basic intro-level course into the 2 hazardous area systems suitable for use in North America (primarily U.S.) It is designed to provide fundamental information to those who need a base knowledge of the standards, terminologies, etc that are utilized in the National Electric Code (NEC) for hazardous area equipment selection and installation, in order to facilitate a base understanding of projects or equipment requests that include requirements to meet North American Hazardous Area certification. This course is NOT intended to be a full explanation of the requirements of these systems nor provide a demonstrated competence in those systems, but is a short informative seminar to help personnel begin to get a grasp on the terminologies and standards required by the NEC. Attendees will be provided a Certificate of Completion issued by Source IEx. Course Summary:  Basics of Explosion Protection (Gas / Combustible Dust properties, Explosion Principles, etc)  Understanding of Hazard Groups, Temperature Classifications, and Equipment Location requirements  NEC 500 (Class / Division) – description, equipment protection methods allowed, etc  NEC 505 (Class / Zone) – description, equipment protection methods, etc  Area Classification – Hazardous Area Designations and criteria  Types of Explosion Protection – basic methodologies and principle of operation  How to read an equipment label  Equipment Selection – what you need to know
2017 Dates: February 8th  March 8th  April 5th
Te register for any of the courses, please click here