Dutchclamp
Cable Clamps & Cable Blocks
Dutchclamp Cable clamps and blocks are designed for mounting low, medium and high voltage cables. Dutchclamp cable clamps are in use throughout the world including the wind energy, Oil & Gas and general industrial facilities requiring simple, low cost, ease of installation and certified solutions for securing cables. The range of models available for each type of cable clamp ensures a perfect fit. All the Dutchclamp cable clamps are manufactured using state-of-the-art materials, with polyamide (PA) as the main constituent element. The unique design, in combination with the specific composition of the raw materials, makes these plastic cable clamps among the strongest in the world. The cable clamps are tested by UL, Damstra Laboratory (KEMA registered), Eaton and Centrilab. Characteristics: · Simple installation. · Withstand short-circuit currents up to 202 kA. · Mechanical tensile strength up to 68,800 N. · Resistant to oils, UV, ozone, salts, moisture, acids and even radioactive emissions. · Self-extinguishing V-0 (UL94), halogen-free, low smoke. · Temperature range from -40 °C to 120 °C. · Black coloured. · Available pre-mounted.
Fault Test Videos of Dutchclamps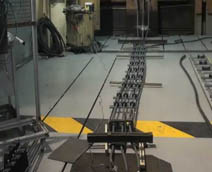 The range of Dutchclamps have been independently tested to various fault ratings and we have posted some of fault tests showing the performance of the Dutchclamps in action:
SE Series of cable/hose clamps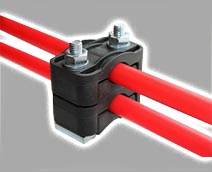 The SE series is designed for single core cables from a range of 15mm up to 170mm. Made of glass fibre reinforced polyamide (PA), it is resistant to oils & solvants and has a temperature range from -40 °C to 120 °C. Completely stackable with a strength of 20,000 N for high stress environments.
To open the Dutchclamp SE brochure, please click here.

Triple Type cable clamps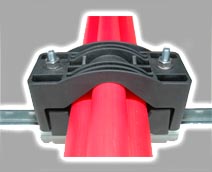 Dutchclamp Triple series is designed for three core cables held in a Trefoil configuration. Manufactured from the same glass reinforced polymide materials, the Triple series has been widely used in industrial applications including wind turbine towers and petrochemical facilities.
To open the Dutchclamp Triple brochure, please click here.

UNIFIX 1M series of cable/hose clamps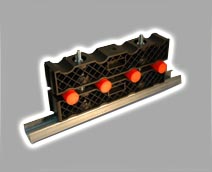 Dutchclamp offers the Unifix 1M clamp for mounting up to four cables/hoses/conduits in a single level design to fit diameters of 12-48mm. The mounting holes are 13mm, allowing the allthread to be extended with threaded bushes at any desired location, thereby eliminating the possibility of damage when cables are installed in multiple layers. The existing configuration can be expanded at any time... easily, simply and at little cost.
To open the Dutchclamp Unifix 1M brochure, please click here.

Polefix Clamp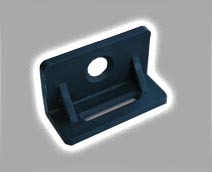 Using a stainless steel strap and two Polefix holders, all types of Dutchclamp cable clamps, cable blocks and other products can be attached to (steel or concrete) poles that may not or cannot be drilled into. Made of glass fibre reinforced polyamide (PA) and suitable for -40 °C to 120 °C.
Contact us today for your next hard to handle cleating requirement using the Dutchcleat solution!