GM International
Intrinsic Safety Solutions
GMI manufacturers a complete range of Intrinsic Safety Galvanically Isolation barriers for use in hazardous areas, and has approvals to both North American and International Approvals including ratings on certain products up to SIL3. Source IEx has been pleased to have been associated with GM International for over seven years.
PSx1200 Series SIL2/SIL3 Power Supplies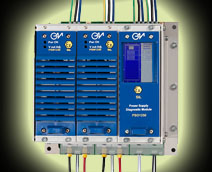 The new PSx1200 Series power supplies have been designed to provide the greatest levels of availability and safety for high integrity and critical applications. Safety: - Three independent overvoltage protections: 1 voltage limiting loop at 30 Vdc and 1+1 crowbars at 30 Vdc. - Under and over voltage alarm monitoring.- High load fuses breaking capacity to ensure that, in case one load attached to the power supply fails, others are not affected. - Units are SIL2/SIL3 according to IEC61508:2010 Ed. 2. - Designed for installation in Zone 2 / Div. 2 hazardous locations. - ATEX, IECEx Certifications.
Performance: - Up to 1200 W for a single unit. - Up to 3600 W (fully redundant) for 19" rack system. - Better than 89% efficiency with 0.98 Power Factor Correction. - Fast output dynamic response.
To open the full Power Supply catalog, please click here

D5200 Series SIL3 Safety Relays with Diagnostics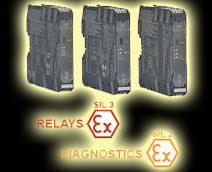 Switching of Safety-Related circuits demands the use of specific SIL certified Relay Output modules, capable of delivering the highest grade of availability and functional safety.  These units are so much more than just a relay; they not only perform the desired safety function, but also provide full Load & Line Internal Diagnostics: load voltage and current, load resistance (patented), leakage from load to earth, coil integrity and internal faults. Moreover, MODBUS communication allows the units to be remotely interrogated and configured.
Hardware is SIL 3 certified, while diagnostic functions are now also SIL 2 certified by TUV: they remain two independent features, which can be used separately or together. For installation in Zone 2 / Div. 2 Hazardous location. All models are ATEX, IECEx and SIL certified..
To open the full GMI Safety Relay series catalog, please click here

D1010 Series Galvanically Isolated Barriers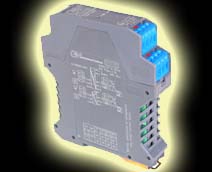 The D1000 series of Intrinsic Safety Barriers is unsurpassed in reliability and performance. With approvals ranging from UL & FM for North American Division/Zone applications to IECEx, ATEX, GOST-R for many different Ex Zone application, the D1000 series has been the benchmark of which all other I.S. barriers are compared against. The D1000 series also has independent certification by TUV for SIL3 applications.
To open the full 2011 GMI catalog, please click here

Features of the D Series of Intrinsic Safety Barriers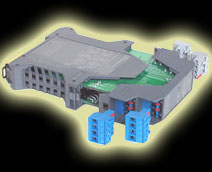 The D1000 series has some innovated designs to make installation and operation safe and simple. Some of the key features include removable blue & grey Terminals for easy installation, a plug in PCB which can be removed for easy service and maintenance operations and when using the optional D1000 power bus design, you can supply 12-24VDC directly to the power bus system which has a maximum allowed power capacity of 8 amps. When the power bus is used, supply contacts on the terminal blocks are omitted to avoid accidental short circuits on the power bus. No need to an elaborate energized rail system, the D1000 uses a simple change to the enclosure to allow the use of the power bus feature. Contact us today for more details on this innovated and cost effective design.
D5000 Series Galvanically Isolated Barriers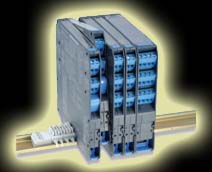 The D5000 is the latest offering from GMI with a smaller footprint, higher stacking density and the ability to have four independent channels in a single 8mm wide I.S. barrier, the D5000 is raising the bar with performance and reliability. Just like the D1000 series, it too has worldwide approvals for both Division and Zone rated applications.
To open the D5000 brochure, please click here