Aegex
Division 1/Zone 1 Windows Tablet
Aegex Technologies offers customizable, Windows-based mobile solutions for all personnel in multiple zones of hazardous locations. Our intrinsically safe devices are globally certified for industrial use in explosive atmospheres, bringing the power of IoT and cloud connectivity to hazardous industries.
Windows 10.1 ATEX/IECEx C1D1 Tablet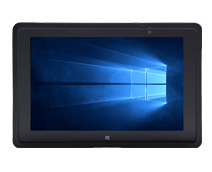 Aegex 10.1″ Intrinsically Safe Tablet, ATEX/IECEx Zone 1, UL CI, II, III D1 approved
The Aegex 10 IS tablet is purpose-built for use in the most hazardous zones of explosive environments. Incapable of igniting a spark, this patents-pending industrial device allows for superior mobile communications on dangerous job sites where traditional devices cannot be used.
Certified under the highest standards of safety for some of the most explosive conditions, ATEX/IECEx Zone 1 and UL913 Class I, II, III Division 1, the Aegex tablet is part of a fully integrated platform that is the preferred solution for mobilizing the world's most hazardous industries.
FEATURES
Intrinsically Safe in hazardous area (w/IS camera + video)
Windows embedded
4G LTE  |  Wi-Fi  |  Bluetooth  |  GPS
Industrial volume with noise cancellation
-10ºC to +50ºC operating temperature
Capacitive Touch with gloves or pen
12-hour operating time
Emergency "man-down" functionality
Hundreds of business apps
Anti-theft security

–PURPOSE BUILT
Patents-pending Intrinsically Safe technology
Rugged IP 65
UL913 5th edition: C I, II, III Div 1 Gr A-G T4, Tamb= -10°C…+50°C; CI Zo Gr IIC T4 IP65, Tamb= -10°C…+50°C
CSA 22.2 part 157
IECEx 60079: Ex ib IIC T6 Gb, Ex ib IIIC T85°C Db IP6X, Tamb= -10°C…+50°C