Purge Solutions
Purge Controller and Indicator Solutions provider
Purge Solutions based here in Texas manufacturers Type Z,Y & X Purge Controllers and Indicators that have both North American approvals from CSA and UL as well as ATEX & IECEx approvals for International applications. We are pleased that we have been associated with Purge Solutions for over 10 years and stock the full range of products here in Spring.
Cyclops YZ Purge Indicator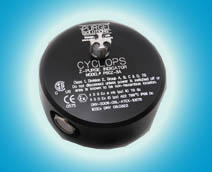 The Cyclops YZ Purge Indicator is a simple, easy to use and install, purge indicator designed for Division 2/Zone 2 applications. The Cyclops mounts directly to your enclosure being protected via a 3" opening, have an integral vent system, a simple LED indicator mounted on the front to provide visual indication of panel protection, and dry contacts for sending a signal back to a DCS or PLC control system for remote monitoring. Available in either 316SS or Anodized Aluminum, the Cyclops is available in 12VDC, 24VDC, 115AC or 230VAC for international applications. Certified for North American applications from CSA and UL and approved both to the ATEX Directive and to the relevant IEC standards for Ex installations, the Cyclops is a simple rugged solution to turn your ordinary location panel to a Division 2 or Zone 2 rated panel .
To open the Cyclops YZ brochure, please click here

Cyclops X Purge Controller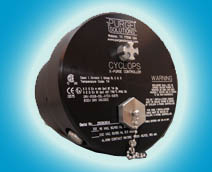 The Cyclops X purge controller mounts directly to the panel providing protection for panels to be installed in a Division 1 or Zone 1 hazardous location. Available in 316SS and Anodized aluminum, the Cyclops X has a built in flame arrestor vent and integral LED along with a key override switch to allow maintenance on the panel without shutting off power to the panel being protected. The Cyclops X is certified to both North American and International standards and approved by CSA for North American Division 1 locations, and DNV for IECEx and European applications to the ATEX Directive.
To open the Cyclops X brochure, please click here

Tricyclops X Multiple Panel Purge Controller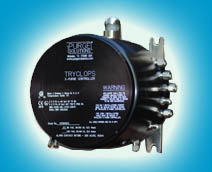 The Tryclops X purge controller operates just like the Cyclops X but has the added benefit of being able to control three different enclosures independently with a single remote mounted unit. Available in 316SS and Anodized Aluminum, the Tryclops X unit has an high visability LED light for local indication of positive pressure, flow and protection. Certified for both Division 1 and Zone 1 locations per NFPA 496 and relevant IEC and EN standards and certified to the ATEX Directive as well as being certified IECEx for international and European applications.
To open the Tryclops X brochure, please click here