Bimed
Cable Gland Solutions for North American and International Cables
The Bimed company has started its activity in 1978 as a medical and mechanical components manufacturer. After various development and reorganization steps during its life, Bimed has today become a large organization working in a 15,000 square meter facility with a staff of 300 people. 16 constitute the quality assurance department and 10 for the research and development division. By adding precision engine spindles and other mechanical parts to the production line, the company diversified its products. Now introducing it's full range of ATEX, IECEx and North American certified Ex glands and components, Source IEx is proud to be associated and a stocking distributor for Bimed products.
Dorado Series Cable Gland
The Dorado series is a four function Ex e Ex d cable gland for use with all armoured cable types around IEC cables including SWA, SWB and STA systems.
To open the Dorado brochure, please click here

Ex Drain Series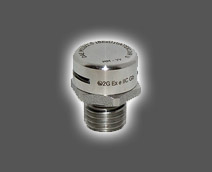 Bimed offers now an NPT and Metric series of breather drains for use with Ex e enclosures available in stainless steel and nickle plated brass. Certified ATEX, IECEx and now UL for North American Class and Division applications, contact us today for more information on this exciting range of drain fittings from Bimed.
To open the Bimed drain brochure, please click here

Grus series of thread adapters
Bimed has introduced a full range of thread adapters and accessories for making transitions from Metric to NPT as well as NPT to Metric available in 316SS and Nickle Plated Brass. Contact us today for more information.
To open the Grus series of thread adapters brochure, please click here

Hydrus Series of cable glands
The Bimed Hydrus series of cable glands are suitable for Liquidtight conduit suitable for use in hazardous areas.
To open the Hydrus brochure, please click here

Lupus Series of Liquidtight Fittings
The Bimed Lupus series is designed Ex e increased safety for Zone 1 and 2 locations in which the preferential wiring method is using flexible conduit systems. The Lupus is available in Nickle Plated Brass as well as stainless steel for extreme environments.
To open the Lupus brochure, please click here

PDF Catalog Link
To open the complete 2015 Bimed, please click here